Exploring your
new home
We hope that you get to see Atria as a home away from home. After all, most of us spend over 1800 hours per year at work. To help you settle in and to make sure you get the most out of your time at Atria, here are a few of the features available to you.

Bright Atrium areas
Offices at Atria overlook two light and bright atriums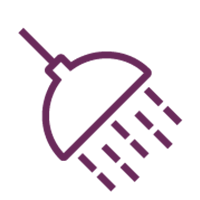 Showers
Available across the first and second floors, shower and changing facilities are provided - coupled with the bike store, this makes cycling to work a practical and appealing option.

Meeting rooms
Three meeting rooms, located on the ground floor, seat from 3-16 people and include wifi, refreshments and AV equipment.
Breakout area
Located on the ground floor in the indoor atrium, the breakout area has a variety of workstations and complimentary tea and coffee. It's perfect for informal meetings, a mid-morning coffee or just for getting some thinking space.
Bike store
For those who prefer a more energetic commute, the bike store offers a secure area to lock your bike whilst at work. It's located in the car park, and you'll just need to ask for the code at reception.