Exploring your
new home
We hope that you get to see Bloc as a home away from home, after all, most of us spend over 1800 hours per year at work. To help you settle in and to make sure you get the most out of your time at Bloc, here are a few of the features available to you.

Meeting rooms
We have a selection of meeting rooms available at Bloc, all in different shapes and sizes. All rooms include complimentary refreshments, stationery and wifi, and our larger rooms include AV equipment for your use.

Business lounge
The lounge on the ground floor is open from 8am-6pm, Monday to Friday. Soft seating, wifi and refreshments make the lounge an ideal place for those quick catch ups that don't need formal meeting space.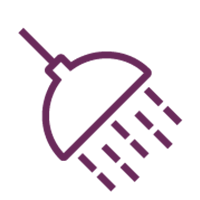 Showers
You'll find these in the basement - they're the perfect place to freshen up before or after work. Along with the bike shed, they make cycling to work a practical and appealing option.
Bike shed
For those who prefer a more energetic commute, we provide a bike shed so that there's somewhere secure and dry to leave your bike while you work. Space is limited, so have a chat with the reception team if you'd like to make use of this facility.